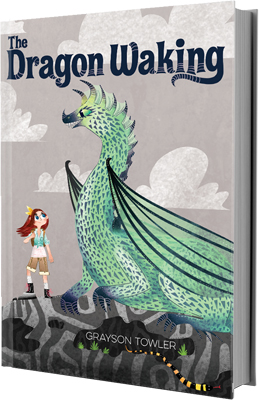 The Dragon Waking
My debut book--on sale now!

For thirteen-year-old Rose Gallagher, having a friend who is really a dragon and can perform magic, change shape, and fly her away from the predictability of small-town life feels like a dream come true. But secrets have a price, and the more Rose learns about her friend Jade and the world of dragons, the more dangerous her life becomes. Rose soon finds herself risking her life to help Jade recover a mysterious fragment of a meteorite called the Harbinger, which has the power to awaken countless dragons from their enchanted slumber. When Rose and Jade come face-to-face with a rival dragon in a battle over neon-drenched skies of Las Vegas, it will take all their courage to avert a catastrophe sixty-five million years in the making!




Published by Albert Whitman & Co.
Available at retailers everywhere, including:
Amazon - Barnes & Noble - GoodReads - Books-A-Million -
IndieBound - Wordery - Albert Whitman & Co.
---

Grayson Appearing at the Longmont Last Chance Gift Fest
1:00 - 3:00 PM on Sunday, December 18th

I'm going to be joining my good friend Bonnie Ramthun at her booth from 1:00 to 3:00, signing copies of The Dragon Waking and meeting readers from my home town. I hope to see you there! The location is:

Boulder County Fairgrounds
9595 Nelson Road
Longmont, CO 80501


---
---


Interview with Grayson at Electric Spec Magazine

Electric Spec is an online speculative fiction magazine, and I'm serving as one of the editors. This issue, I'm interviewed about The Dragon Waking, the changing nature of fantasy, and what it's like to get your first book published!


---
Bonus Short Story for
The Dragon Waking
Available Now!

Dinosaurs are running rampant in Las Vegas! Follow Clay and Mrs. Jersey on an exciting adventure in "Escape from Lost World."

Learn how you can receive this bonus story!

Some of my favorite authors: